While many nonprofits struggle to engage donors during the summer months, it's a great time to take stock in your organization's communications strategy and start charting a course for the months ahead. Here are a few areas we recommend examining based on current trends in the industry.
1. Calculate your org's digital maturity
SalesForce's latest Nonprofit Trends Report shows that orgs with high levels of digital maturity have exceeded goals for program delivery, marketing, and fundraising this year, despite ongoing challenges presented by COVID-19.
Use the formula below to calculate your organization's digital maturity and identify areas of improvement, from data-driven decision making to personalization and forecasting.
2. Revisit your foundation strategy
The crises of 2020 spurred foundations to not only give more to nonprofits, but to rethink how they give. A few points from the latest Center for Effective Philanthropy (CEP) reports:
75% of foundations are providing a higher proportion of unrestricted grant dollars compared with before the pandemic
80% raised policy and systems change as important issues, especially around advocacy and organizing
90% are making new efforts to support organizations serving communities disproportionately affected by public health and economic consequences of COVID-19. This includes people of color, people with disabilities, people from lower income communities, and undocumented immigrants.
This shift from disaster response to a focus on building more equitable systems makes it a good time to evaluate your organization's funding strategy. Check out a grant database to learn about new opportunities, or consider revisiting your mission statement to ensure it clearly addresses both immediate and long-term impact.
3. Diversify your social media presence
SimilarWeb shows that social traffic to the top 100 philanthropic sites has become less dominated by Facebook over the past three months, with increased traffic coming from Twitter, YouTube, Instagram and Pinterest.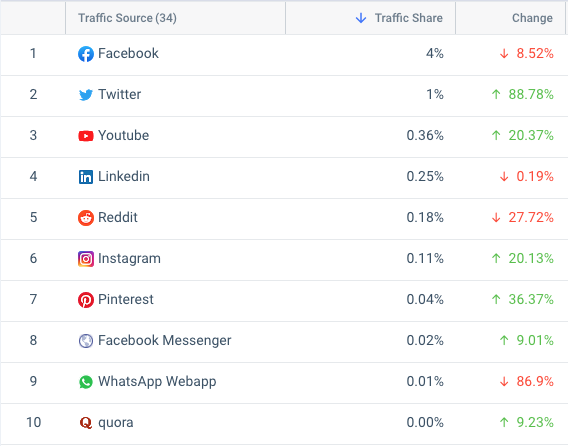 If you've been primarily focused on Facebook this year, it's worth taking a look at your organization's content strategy across these additional social channels to establish a more robust presence or try out new fundraising features. Jump into a timely conversation about your cause on Twitter using relevant hashtags, try out donation stickers on Instagram Stories, or consider optimizing your YouTube channel for high-volume search terms.
Thanks for reading. We hope this list helps strengthen your organization's fundraising efforts. We'll continue to monitor trends and stay in touch. In the meantime, if you feel like your organization needs more support, please don't hesitate to reach out. We'd love to help.